September 22nd, 2022
September 22, 2022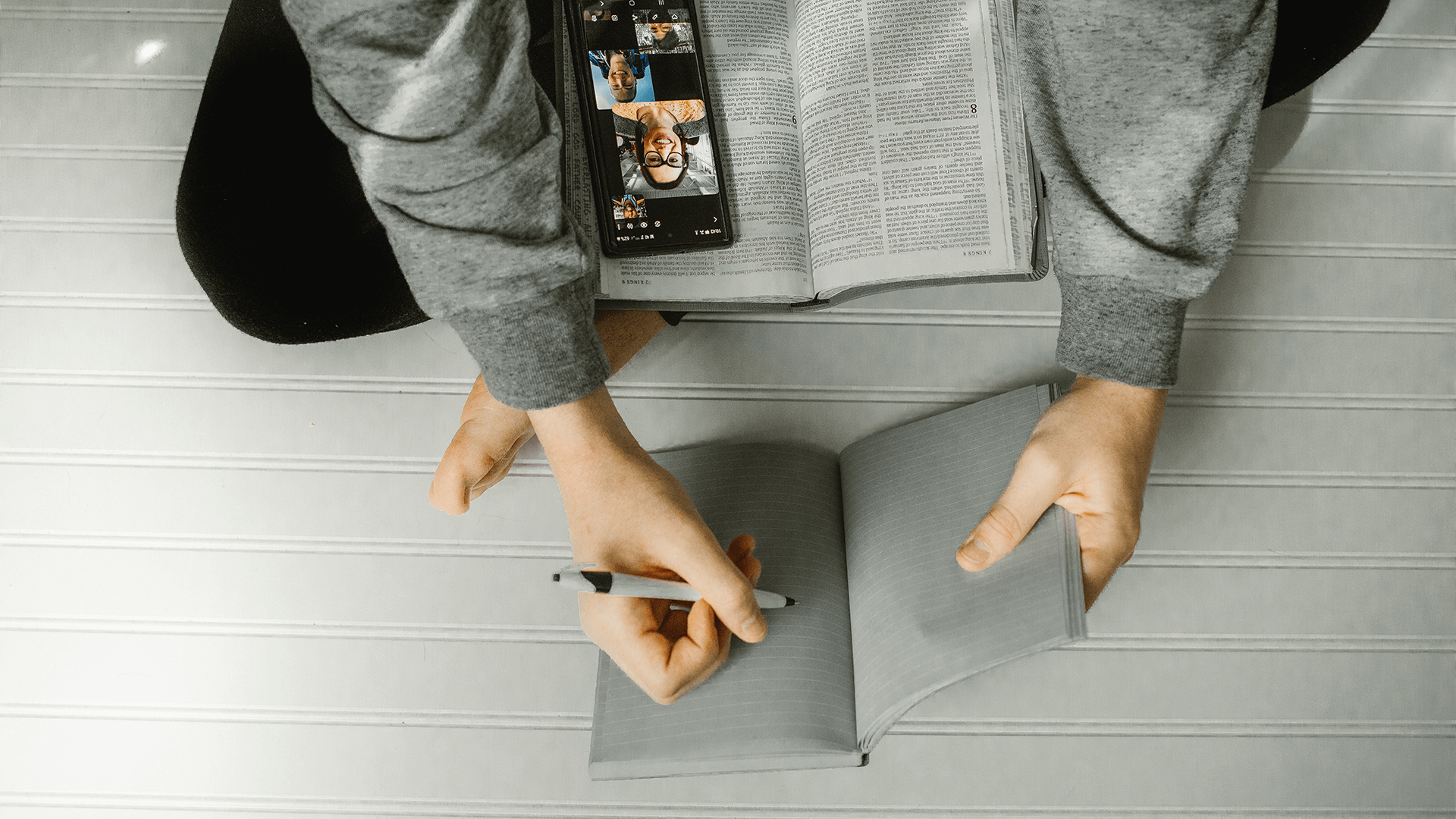 Today's Reading:
New Testament & Psalms Plan: 2 Corinthians 6:14–7:16, Psalm 107:9–14
Entire Bible Plan: 2 Corinthians 6:14–7:16, Psalm 107:9–14, Ecclesiastes 7–8
Download NT & Psalms Plan Download Entire Bible Plan
Separation to God
Do not be yoked together with those who do not believe. For what partnership is there between righteousness and lawlessness? Or what fellowship does light have with darkness? What agreement does Christ have with Belial? Or what does a believer have in common with an unbeliever? And what agreement does the temple of God have with idols? For we are the temple of the living God, as God said:
I will dwell
and walk among them,
and I will be their God,
and they will be my people.
Therefore, come out from among them
and be separate, says the Lord;
do not touch any unclean thing,
and I will welcome you.
And I will be a Father to you,
and you will be sons and daughters to me,
says the Lord Almighty.
So then, dear friends, since we have these promises, let us cleanse ourselves from every impurity of the flesh and spirit, bringing holiness to completion in the fear of God.
Joy and Repentance
Make room for us in your hearts. We have wronged no one, corrupted no one, taken advantage of no one. I don't say this to condemn you, since I have already said that you are in our hearts, to die together and to live together. I am very frank with you; I have great pride in you. I am filled with encouragement; I am overflowing with joy in all our afflictions.
In fact, when we came into Macedonia, we had no rest. Instead, we were troubled in every way: conflicts on the outside, fears within. But God, who comforts the downcast, comforted us by the arrival of Titus, and not only by his arrival but also by the comfort he received from you. He told us about your deep longing, your sorrow, and your zeal for me, so that I rejoiced even more. For even if I grieved you with my letter, I don't regret it. And if I regretted it—since I saw that the letter grieved you, yet only for a while— I now rejoice, not because you were grieved, but because your grief led to repentance. For you were grieved as God willed, so that you didn't experience any loss from us. For godly grief produces a repentance that leads to salvation without regret, but worldly grief produces death. For consider how much diligence this very thing—this grieving as God wills—has produced in you: what a desire to clear yourselves, what indignation, what fear, what deep longing, what zeal, what justice! In every way you showed yourselves to be pure in this matter. So even though I wrote to you, it was not because of the one who did wrong, or because of the one who was wronged, but in order that your devotion to us might be made plain to you in the sight of God. For this reason we have been comforted.
In addition to our own comfort, we rejoiced even more over the joy Titus had, because his spirit was refreshed by all of you. For if I have made any boast to him about you, I have not been disappointed; but as I have spoken everything to you in truth, so our boasting to Titus has also turned out to be the truth. And his affection toward you is even greater as he remembers the obedience of all of you, and how you received him with fear and trembling. I rejoice that I have complete confidence in you.
---
Scripture quotations have been taken from the Christian Standard Bible®, Copyright © 2017 by Holman Bible Publishers. Used by permission. Christian Standard Bible® and CSB® are federally registered trademarks of Holman Bible Publishers.
For he has satisfied the thirsty
and filled the hungry with good things.

Others sat in darkness and gloom—
prisoners in cruel chains—
because they rebelled against God's commands
and despised the counsel of the Most High.
He broke their spirits with hard labor;
they stumbled, and there was no one to help.
Then they cried out to the Lord in their trouble;
he saved them from their distress.
He brought them out of darkness and gloom
and broke their chains apart.
---
Scripture quotations have been taken from the Christian Standard Bible®, Copyright © 2017 by Holman Bible Publishers. Used by permission. Christian Standard Bible® and CSB® are federally registered trademarks of Holman Bible Publishers.
Wise Sayings
A good name is better than fine perfume,
and the day of one's death is better than the day of one's birth.
It is better to go to a house of mourning
than to go to a house of feasting,
since that is the end of all mankind,
and the living should take it to heart.
Grief is better than laughter,
for when a face is sad, a heart may be glad.
The heart of the wise is in a house of mourning,
but the heart of fools is in a house of pleasure.
It is better to listen to rebuke from a wise person
than to listen to the song of fools,
for like the crackling of burning thorns under the pot,
so is the laughter of the fool.
This too is futile.
Surely, the practice of extortion turns a wise person into a fool,
and a bribe corrupts the mind.
The end of a matter is better than its beginning;
a patient spirit is better than a proud spirit.
Don't let your spirit rush to be angry,
for anger abides in the heart of fools.
Don't say, "Why were the former days better than these?"
since it is not wise of you to ask this.
Wisdom is as good as an inheritance
and an advantage to those who see the sun,
because wisdom is protection as silver is protection;
but the advantage of knowledge
is that wisdom preserves the life of its owner.
Consider the work of God,
for who can straighten out
what he has made crooked?
In the day of prosperity be joyful, but in the day of adversity, consider: God has made the one as well as the other, so that no one can discover anything that will come after him.
Avoiding Extremes
In my futile life I have seen everything: someone righteous perishes in spite of his righteousness, and someone wicked lives long in spite of his evil. Don't be excessively righteous, and don't be overly wise. Why should you destroy yourself? Don't be excessively wicked, and don't be foolish. Why should you die before your time? It is good that you grasp the one and do not let the other slip from your hand. For the one who fears God will end up with both of them.
Wisdom makes the wise person stronger
than ten rulers of a city.
There is certainly no one righteous on the earth
who does good and never sins.
Don't pay attention to everything people say, or you may hear your servant cursing you, for in your heart you know that many times you yourself have cursed others.
What the Teacher Found
I have tested all this by wisdom. I resolved, "I will be wise," but it was beyond me. What exists is beyond reach and very deep. Who can discover it? I turned my thoughts to know, explore, and examine wisdom and an explanation for things, and to know that wickedness is stupidity and folly is madness. And I find more bitter than death the woman who is a trap: her heart a net and her hands chains. The one who pleases God will escape her, but the sinner will be captured by her. "Look," says the Teacher, "I have discovered this by adding one thing to another to find out the explanation, which my soul continually searches for but does not find: I found one person in a thousand, but none of those was a woman. Only see this: I have discovered that God made people upright, but they pursued many schemes."
Wisdom, Authorities, and Inequities
Who is like the wise person, and who knows the interpretation of a matter? A person's wisdom brightens his face, and the sternness of his face is changed.
Keep the king's command because of your oath made before God. Do not be in a hurry; leave his presence, and don't persist in a bad cause, since he will do whatever he wants. For the king's word is authoritative, and who can say to him, "What are you doing?" The one who keeps a command will not experience anything harmful, and a wise heart knows the right time and procedure. For every activity there is a right time and procedure, even though a person's troubles are heavy on him. Yet no one knows what will happen because who can tell him what will happen? No one has authority over the wind to restrain it, and there is no authority over the day of death; no one is discharged during battle, and wickedness will not allow those who practice it to escape. All this I have seen, applying my mind to all the work that is done under the sun, at a time when one person has authority over another to his harm.
In such circumstances, I saw the wicked buried. They came and went from the holy place, and they were praised in the city where they did those things. This too is futile. Because the sentence against an evil act is not carried out quickly, the heart of people is filled with the desire to commit evil. Although a sinner does evil a hundred times and prolongs his life, I also know that it will go well with God-fearing people, for they are reverent before him. However, it will not go well with the wicked, and they will not lengthen their days like a shadow, for they are not reverent before God.
There is a futility that is done on the earth: there are righteous people who get what the actions of the wicked deserve, and there are wicked people who get what the actions of the righteous deserve. I say that this too is futile. So I commended enjoyment because there is nothing better for a person under the sun than to eat, drink, and enjoy himself, for this will accompany him in his labor during the days of his life that God gives him under the sun.
When I applied my mind to know wisdom and to observe the activity that is done on the earth (even though one's eyes do not close in sleep day or night), I observed all the work of God and concluded that a person is unable to discover the work that is done under the sun. Even though a person labors hard to explore it, he cannot find it; even if a wise person claims to know it, he is unable to discover it.
---
Scripture quotations have been taken from the Christian Standard Bible®, Copyright © 2017 by Holman Bible Publishers. Used by permission. Christian Standard Bible® and CSB® are federally registered trademarks of Holman Bible Publishers.