August 4th, 2022
August 04, 2022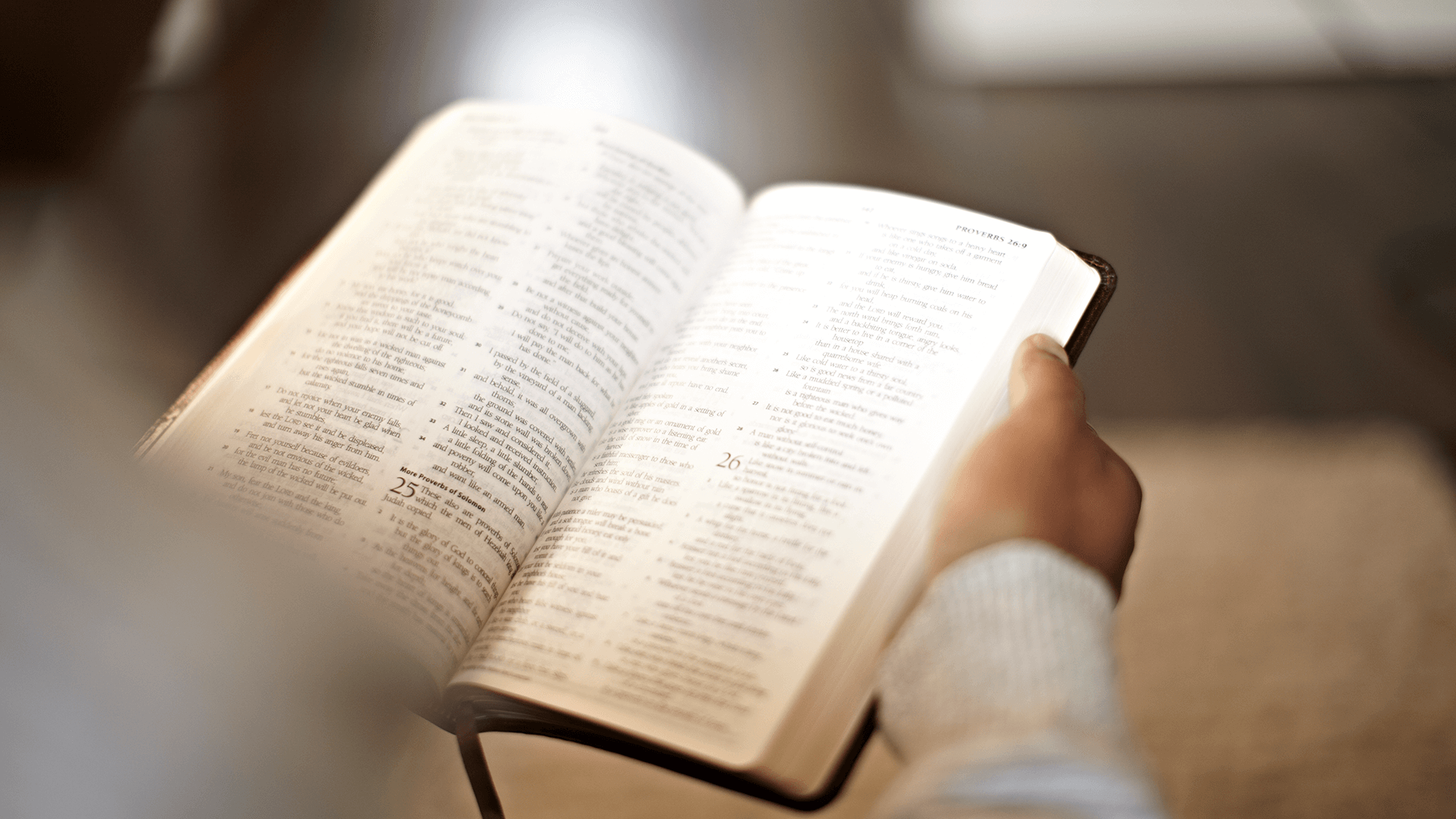 Today's Reading:
New Testament & Psalms Plan: Acts 26:12–32, Psalm 89:44–52
Entire Bible Plan: Acts 26:12–32, Psalm 89:44–52, Ezra 8–9
Download NT & Psalms Plan Download Entire Bible Plan
Paul's Account of His Conversion and Commission
"I was traveling to Damascus under these circumstances with authority and a commission from the chief priests. King Agrippa, while on the road at midday, I saw a light from heaven brighter than the sun, shining around me and those traveling with me. We all fell to the ground, and I heard a voice speaking to me in Aramaic, 'Saul, Saul, why are you persecuting me? It is hard for you to kick against the goads.'
"I asked, 'Who are you, Lord?'
"And the Lord replied, 'I am Jesus, the one you are persecuting. But get up and stand on your feet. For I have appeared to you for this purpose, to appoint you as a servant and a witness of what you have seen and will see of me. I will rescue you from your people and from the Gentiles. I am sending you to them to open their eyes so that they may turn from darkness to light and from the power of Satan to God, that they may receive forgiveness of sins and a share among those who are sanctified by faith in me.'
"So then, King Agrippa, I was not disobedient to the heavenly vision. Instead, I preached to those in Damascus first, and to those in Jerusalem and in all the region of Judea, and to the Gentiles, that they should repent and turn to God, and do works worthy of repentance. For this reason the Jews seized me in the temple and were trying to kill me.
To this very day, I have had help from God, and I stand and testify to both small and great, saying nothing other than what the prophets and Moses said would take place— that the Messiah would suffer, and that, as the first to rise from the dead, he would proclaim light to our people and to the Gentiles."

Acts 26:22-23
Agrippa Not Quite Persuaded
As he was saying these things in his defense, Festus exclaimed in a loud voice, "You're out of your mind, Paul! Too much study is driving you mad."
But Paul replied, "I'm not out of my mind, most excellent Festus. On the contrary, I'm speaking words of truth and good judgment. For the king knows about these matters, and I can speak boldly to him. For I am convinced that none of these things has escaped his notice, since this was not done in a corner. King Agrippa, do you believe the prophets? I know you believe."
Agrippa said to Paul, "Are you going to persuade me to become a Christian so easily?"
"I wish before God," replied Paul, "that whether easily or with difficulty, not only you but all who listen to me today might become as I am—except for these chains."
The king, the governor, Bernice, and those sitting with them got up, and when they had left they talked with each other and said, "This man is not doing anything to deserve death or imprisonment."
Agrippa said to Festus, "This man could have been released if he had not appealed to Caesar."
---
Scripture quotations have been taken from the Christian Standard Bible®, Copyright © 2017 by Holman Bible Publishers. Used by permission. Christian Standard Bible® and CSB® are federally registered trademarks of Holman Bible Publishers.
You have made his splendor cease
and have overturned his throne.
You have shortened the days of his youth;
you have covered him with shame. Selah

How long, Lord? Will you hide forever?
Will your anger keep burning like fire?
Remember how short my life is.
Have you created everyone for nothing?
What courageous person can live and never see death?
Who can save himself from the power of Sheol? Selah
Lord, where are the former acts of your faithful love
that you swore to David in your faithfulness?
Remember, Lord, the ridicule against your servants—
in my heart I carry abuse from all the peoples—
how your enemies have ridiculed, Lord,
how they have ridiculed every step of your anointed.

Blessed be the Lord forever.
Amen and amen.
---
Scripture quotations have been taken from the Christian Standard Bible®, Copyright © 2017 by Holman Bible Publishers. Used by permission. Christian Standard Bible® and CSB® are federally registered trademarks of Holman Bible Publishers.
Those Returning with Ezra
These are the family heads and the genealogical records of those who returned with me from Babylon during the reign of King Artaxerxes:
Gershom, from Phinehas's descendants;
Daniel, from Ithamar's descendants;
Hattush, from David's descendants,
who was of Shecaniah's descendants;
Zechariah, from Parosh's descendants,
and 150 men with him who were registered by genealogy;
Eliehoenai son of Zerahiah
from Pahath-moab's descendants,
and 200 men with him;
Shecaniah son of Jahaziel
from Zattu's descendants,
and 300 men with him;
Ebed son of Jonathan
from Adin's descendants,
and 50 men with him;
Jeshaiah son of Athaliah
from Elam's descendants,
and 70 men with him;
Zebadiah son of Michael
from Shephatiah's descendants,
and 80 men with him;
Obadiah son of Jehiel
from Joab's descendants,
and 218 men with him;
Shelomith son of Josiphiah
from Bani's descendants,
and 160 men with him;
Zechariah son of Bebai
from Bebai's descendants,
and 28 men with him;
Johanan son of Hakkatan
from Azgad's descendants,
and 110 men with him;
these are the last ones, from Adonikam's descendants,
and their names are
Eliphelet, Jeuel, and Shemaiah,
and 60 men with them;
Uthai and Zaccur
from Bigvai's descendants,
and 70 men with them.
I gathered them at the river that flows to Ahava, and we camped there for three days. I searched among the people and priests, but found no Levites there. Then I summoned the leaders: Eliezer, Ariel, Shemaiah, Elnathan, Jarib, Elnathan, Nathan, Zechariah, and Meshullam, as well as the teachers Joiarib and Elnathan. I sent them to Iddo, the leader at Casiphia, with a message for him and his brothers, the temple servants at Casiphia, that they should bring us ministers for the house of our God. Since the gracious hand of our God was on us, they brought us Sherebiah—a man of insight from the descendants of Mahli, a descendant of Levi son of Israel—along with his sons and brothers, 18 men, plus Hashabiah, along with Jeshaiah, from the descendants of Merari, and his brothers and their sons, 20 men. There were also 220 of the temple servants, who had been appointed by David and the leaders for the work of the Levites. All were identified by name.
Preparing to Return
I proclaimed a fast by the Ahava River, so that we might humble ourselves before our God and ask him for a safe journey for us, our dependents, and all our possessions. I did this because I was ashamed to ask the king for infantry and cavalry to protect us from enemies during the journey, since we had told him, "The hand of our God is gracious to all who seek him, but his fierce anger is against all who abandon him." So we fasted and pleaded with our God about this, and he was receptive to our prayer.
I selected twelve of the leading priests, along with Sherebiah, Hashabiah, and ten of their brothers. I weighed out to them the silver, the gold, and the articles—the contribution for the house of our God that the king, his counselors, his leaders, and all the Israelites who were present had offered. I weighed out to them 24 tons of silver, silver articles weighing 7,500 pounds, 7,500 pounds of gold, twenty gold bowls worth a thousand gold coins, and two articles of fine gleaming bronze, as valuable as gold. Then I said to them, "You are holy to the Lord, and the articles are holy. The silver and gold are a freewill offering to the Lord God of your ancestors. Guard them carefully until you weigh them out in the chambers of the Lord's house before the leading priests, Levites, and heads of the Israelite families in Jerusalem." So the priests and Levites took charge of the silver, the gold, and the articles that had been weighed out, to bring them to the house of our God in Jerusalem.
Arrival in Jerusalem
We set out from the Ahava River on the twelfth day of the first month to go to Jerusalem. We were strengthened by our God, and he kept us from the grasp of the enemy and from ambush along the way. So we arrived at Jerusalem and rested there for three days. On the fourth day the silver, the gold, and the articles were weighed out in the house of our God into the care of the priest Meremoth son of Uriah. Eleazar son of Phinehas was with him. The Levites Jozabad son of Jeshua and Noadiah son of Binnui were also with them. Everything was verified by number and weight, and the total weight was recorded at that time.
The exiles who had returned from the captivity offered burnt offerings to the God of Israel: twelve bulls for all Israel, ninety-six rams, and seventy-seven lambs, along with twelve male goats as a sin offering. All this was a burnt offering for the Lord. They also delivered the king's edicts to the royal satraps and governors of the region west of the Euphrates, so that they would support the people and the house of God.
Israel's Intermarriage
After these things had been done, the leaders approached me and said, "The people of Israel, the priests, and the Levites have not separated themselves from the surrounding peoples whose detestable practices are like those of the Canaanites, Hethites, Perizzites, Jebusites, Ammonites, Moabites, Egyptians, and Amorites. Indeed, the Israelite men have taken some of their daughters as wives for themselves and their sons, so that the holy seed has become mixed with the surrounding peoples. The leaders and officials have taken the lead in this unfaithfulness!" When I heard this report, I tore my tunic and robe, pulled out some of the hair from my head and beard, and sat down devastated.
Ezra's Confession
Everyone who trembled at the words of the God of Israel gathered around me, because of the unfaithfulness of the exiles, while I sat devastated until the evening offering. At the evening offering, I got up from my time of humiliation, with my tunic and robe torn. Then I fell on my knees and spread out my hands to the Lord my God. And I said:
My God, I am ashamed and embarrassed to lift my face toward you, my God, because our iniquities are higher than our heads and our guilt is as high as the heavens. Our guilt has been terrible from the days of our ancestors until the present. Because of our iniquities we have been handed over, along with our kings and priests, to the surrounding kings, and to the sword, captivity, plundering, and open shame, as it is today. But now, for a brief moment, grace has come from the Lord our God to preserve a remnant for us and give us a stake in his holy place. Even in our slavery, God has given us a little relief and light to our eyes. Though we are slaves, our God has not abandoned us in our slavery. He has extended grace to us in the presence of the Persian kings, giving us relief, so that we can rebuild the house of our God and repair its ruins, to give us a wall in Judah and Jerusalem.
Now, our God, what can we say in light of this? For we have abandoned the commands you gave through your servants the prophets, saying, "The land you are entering to possess is an impure land. The surrounding peoples have filled it from end to end with their uncleanness by their impurity and detestable practices. So do not give your daughters to their sons in marriage or take their daughters for your sons. Never pursue their welfare or prosperity, so that you will be strong, eat the good things of the land, and leave it as an inheritance to your sons forever." After all that has happened to us because of our evil deeds and terrible guilt—though you, our God, have punished us less than our iniquities deserve and have allowed us to survive— should we break your commands again and intermarry with the peoples who commit these detestable practices? Wouldn't you become so angry with us that you would destroy us, leaving neither remnant nor survivor? Lord God of Israel, you are righteous, for we survive as a remnant today. Here we are before you with our guilt, though no one can stand in your presence because of this.
---
Scripture quotations have been taken from the Christian Standard Bible®, Copyright © 2017 by Holman Bible Publishers. Used by permission. Christian Standard Bible® and CSB® are federally registered trademarks of Holman Bible Publishers.