September 27th, 2022
September 27, 2022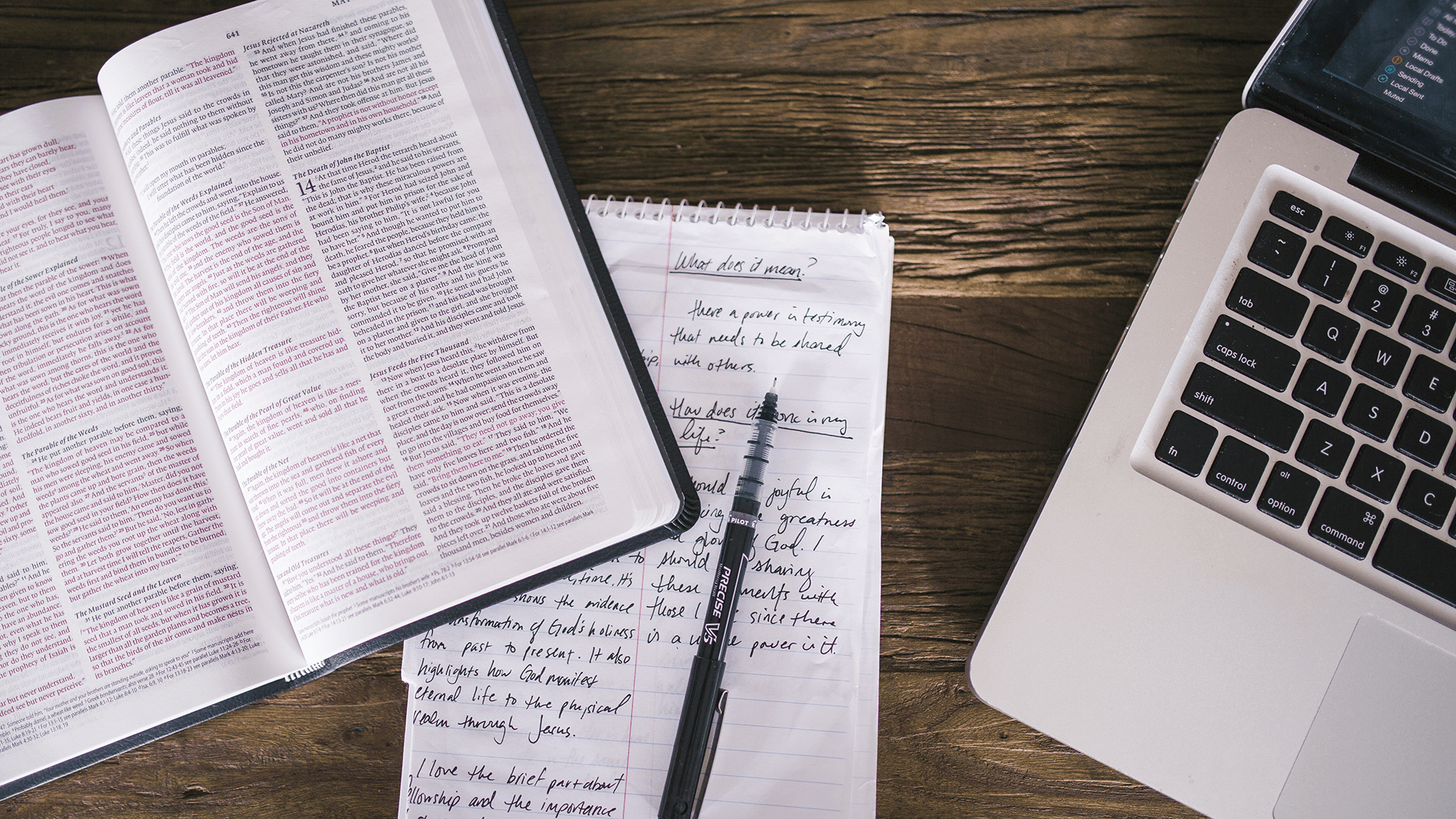 Today's Reading:
New Testament & Psalms Plan: 2 Corinthians 11:16–12:10, Psalm 108:1–7
Entire Bible Plan: 2 Corinthians 11:16–12:10, Psalm 108:1–7, Isaiah 3:1–5:7
Download NT & Psalms Plan Download Entire Bible Plan
Paul's Sufferings for Christ
I repeat: Let no one consider me a fool. But if you do, at least accept me as a fool so that I can also boast a little. What I am saying in this matter of boasting, I don't speak as the Lord would, but as it were, foolishly. Since many boast according to the flesh, I will also boast. For you, being so wise, gladly put up with fools! In fact, you put up with it if someone enslaves you, if someone exploits you, if someone takes advantage of you, if someone is arrogant toward you, if someone slaps you in the face. I say this to our shame: We have been too weak for that!
But in whatever anyone dares to boast—I am talking foolishly—I also dare: Are they Hebrews? So am I. Are they Israelites? So am I. Are they the descendants of Abraham? So am I. Are they servants of Christ? I'm talking like a madman—I'm a better one: with far more labors, many more imprisonments, far worse beatings, many times near death.
Five times I received the forty lashes minus one from the Jews. Three times I was beaten with rods. Once I received a stoning. Three times I was shipwrecked. I have spent a night and a day in the open sea. On frequent journeys, I faced dangers from rivers, dangers from robbers, dangers from my own people, dangers from Gentiles, dangers in the city, dangers in the wilderness, dangers at sea, and dangers among false brothers; toil and hardship, many sleepless nights, hunger and thirst, often without food, cold, and without clothing. Not to mention other things, there is the daily pressure on me: my concern for all the churches. Who is weak, and I am not weak? Who is made to stumble, and I do not burn with indignation?
If boasting is necessary, I will boast about my weaknesses. The God and Father of the Lord Jesus, who is blessed forever, knows I am not lying. In Damascus, a ruler under King Aretas guarded the city of Damascus in order to arrest me. So I was let down in a basket through a window in the wall and escaped from his hands.
Sufficient Grace
Boasting is necessary. It is not profitable, but I will move on to visions and revelations of the Lord. I know a man in Christ who was caught up to the third heaven fourteen years ago. Whether he was in the body or out of the body, I don't know; God knows. I know that this man—whether in the body or out of the body I don't know; God knows— was caught up into paradise and heard inexpressible words, which a human being is not allowed to speak. I will boast about this person, but not about myself, except of my weaknesses.
For if I want to boast, I wouldn't be a fool, because I would be telling the truth. But I will spare you, so that no one can credit me with something beyond what he sees in me or hears from me, especially because of the extraordinary revelations. Therefore, so that I would not exalt myself, a thorn in the flesh was given to me, a messenger of Satan to torment me so that I would not exalt myself. Concerning this, I pleaded with the Lord three times that it would leave me. But he said to me, "My grace is sufficient for you, for my power is perfected in weakness."
Therefore, I will most gladly boast all the more about my weaknesses, so that Christ's power may reside in me. So I take pleasure in weaknesses, insults, hardships, persecutions, and in difficulties, for the sake of Christ. For when I am weak, then I am strong.
---
Scripture quotations have been taken from the Christian Standard Bible®, Copyright © 2017 by Holman Bible Publishers. Used by permission. Christian Standard Bible® and CSB® are federally registered trademarks of Holman Bible Publishers.
A Plea for Victory
A song. A psalm of David.
My heart is confident, God;
I will sing; I will sing praises
with the whole of my being.
Wake up, harp and lyre!
I will wake up the dawn.
I will praise you, Lord, among the peoples;
I will sing praises to you among the nations.
For your faithful love is higher than the heavens,
and your faithfulness reaches to the clouds.
God, be exalted above the heavens,
and let your glory be over the whole earth.
Save with your right hand and answer me
so that those you love may be rescued.

God has spoken in his sanctuary:
"I will celebrate!
I will divide up Shechem.
I will apportion the Valley of Succoth.
---
Scripture quotations have been taken from the Christian Standard Bible®, Copyright © 2017 by Holman Bible Publishers. Used by permission. Christian Standard Bible® and CSB® are federally registered trademarks of Holman Bible Publishers.
Judah's Leaders Judged
Note this: The Lord God of Armies
is about to remove from Jerusalem and from Judah
every kind of security:
the entire supply of bread and water,
heroes and warriors,
judges and prophets,
fortune-tellers and elders,
commanders of fifty and dignitaries,
counselors, cunning magicians, and necromancers.
"I will make youths their leaders,
and unstable rulers will govern them."
The people will oppress one another,
man against man, neighbor against neighbor;
the young will act arrogantly toward the old,
and the worthless toward the honorable.
A man will even seize his brother
in his father's house, saying,
"You have a cloak—you be our leader!
This heap of rubble will be under your control."
On that day he will cry out, saying,
"I'm not a healer.
I don't even have food or clothing in my house.
Don't make me the leader of the people!"
For Jerusalem has stumbled
and Judah has fallen
because they have spoken and acted against the Lord,
defying his glorious presence.
The look on their faces testifies against them,
and like Sodom, they flaunt their sin;
they do not conceal it.
Woe to them,
for they have brought disaster on themselves.
Tell the righteous that it will go well for them,
for they will eat the fruit of their labor.
Woe to the wicked—it will go badly for them,
for what they have done will be done to them.
Youths oppress my people,
and women rule over them.
My people, your leaders mislead you;
they confuse the direction of your paths.

The Lord rises to argue the case
and stands to judge the people.
The Lord brings this charge
against the elders and leaders of his people:
"You have devastated the vineyard.
The plunder from the poor is in your houses.
Why do you crush my people
and grind the faces of the poor?"
This is the declaration of the Lord God of Armies.
Jerusalem's Women Judged
The Lord also says:
Because the daughters of Zion are haughty,
walking with heads held high
and seductive eyes,
prancing along,
jingling their ankle bracelets,
the Lord will put scabs on the heads
of the daughters of Zion,
and the Lord will shave their foreheads bare.
On that day the Lord will strip their finery: ankle bracelets, headbands, crescents, pendants, bracelets, veils, headdresses, ankle jewelry, sashes, perfume bottles, amulets, signet rings, nose rings, festive robes, capes, cloaks, purses, garments, linen clothes, turbans, and shawls.
Instead of perfume there will be a stench;
instead of a belt, a rope;
instead of beautifully styled hair, baldness;
instead of fine clothes, sackcloth;
instead of beauty, branding.
Your men will fall by the sword,
your warriors in battle.
Then her gates will lament and mourn;
deserted, she will sit on the ground.
On that day seven women
will seize one man, saying,
"We will eat our own bread
and provide our own clothing.
Just let us bear your name.
Take away our disgrace."
Zion's Future Glory
On that day the Branch of the Lord will be beautiful and glorious, and the fruit of the land will be the pride and glory of Israel's survivors. Whoever remains in Zion and whoever is left in Jerusalem will be called holy—all in Jerusalem written in the book of life— when the Lord has washed away the filth of the daughters of Zion and cleansed the bloodguilt from the heart of Jerusalem by a spirit of judgment and a spirit of burning. Then the Lord will create a cloud of smoke by day and a glowing flame of fire by night over the entire site of Mount Zion and over its assemblies. For there will be a canopy over all the glory, and there will be a shelter for shade from heat by day and a refuge and shelter from storm and rain.
Song of the Vineyard
I will sing about the one I love,
a song about my loved one's vineyard:
The one I love had a vineyard
on a very fertile hill.
He broke up the soil, cleared it of stones,
and planted it with the finest vines.
He built a tower in the middle of it
and even dug out a winepress there.
He expected it to yield good grapes,

but it yielded worthless grapes.
So now, residents of Jerusalem
and men of Judah,
please judge between me
and my vineyard.
What more could I have done for my vineyard
than I did?
Why, when I expected a yield of good grapes,
did it yield worthless grapes?
Now I will tell you
what I am about to do to my vineyard:
I will remove its hedge,
and it will be consumed;
I will tear down its wall,
and it will be trampled.
I will make it a wasteland.
It will not be pruned or weeded;
thorns and briers will grow up.
I will also give orders to the clouds
that rain should not fall on it.
For the vineyard of the Lord of Armies
is the house of Israel,
and the men of Judah,
the plant he delighted in.
He expected justice
but saw injustice;
he expected righteousness
but heard cries of despair.
---
Scripture quotations have been taken from the Christian Standard Bible®, Copyright © 2017 by Holman Bible Publishers. Used by permission. Christian Standard Bible® and CSB® are federally registered trademarks of Holman Bible Publishers.