September 21st, 2022
September 21, 2022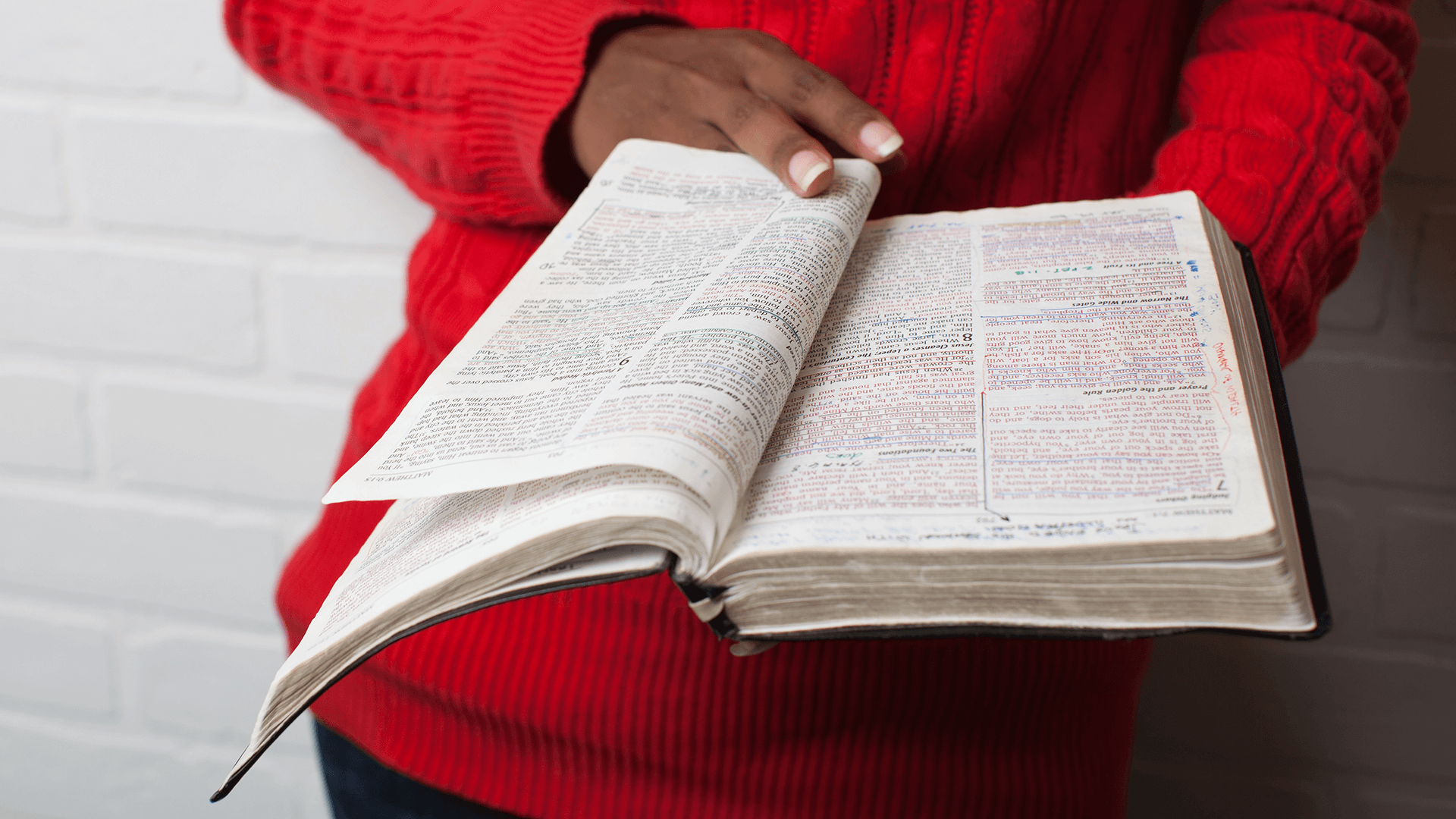 Today's Reading:
New Testament & Psalms Plan: 2 Corinthians 5:11–6:13, Psalm 107:1–8
Entire Bible Plan: 2 Corinthians 5:11–6:13, Psalm 107:1–8, Ecclesiastes 4–6
Download NT & Psalms Plan Download Entire Bible Plan
Therefore, since we know the fear of the Lord, we try to persuade people. What we are is plain to God, and I hope it is also plain to your consciences. We are not commending ourselves to you again, but giving you an opportunity to be proud of us, so that you may have a reply for those who take pride in outward appearance rather than in the heart. For if we are out of our mind, it is for God; if we are in our right mind, it is for you. For the love of Christ compels us, since we have reached this conclusion, that one died for all, and therefore all died. And he died for all so that those who live should no longer live for themselves, but for the one who died for them and was raised.
The Ministry of Reconciliation
From now on, then, we do not know anyone from a worldly perspective. Even if we have known Christ from a worldly perspective, yet now we no longer know him in this way. Therefore, if anyone is in Christ, he is a new creation; the old has passed away, and see, the new has come! Everything is from God, who has reconciled us to himself through Christ and has given us the ministry of reconciliation. That is, in Christ, God was reconciling the world to himself, not counting their trespasses against them, and he has committed the message of reconciliation to us.
Therefore, we are ambassadors for Christ, since God is making his appeal through us. We plead on Christ's behalf, "Be reconciled to God." He made the one who did not know sin to be sin for us, so that in him we might become the righteousness of God.
Working together with him, we also appeal to you, "Don't receive the grace of God in vain." For he says:
At an acceptable time I listened to you,
and in the day of salvation I helped you.
See, now is the acceptable time; now is the day of salvation!
The Character of Paul's Ministry
We are not giving anyone an occasion for offense, so that the ministry will not be blamed. Instead, as God's ministers, we commend ourselves in everything: by great endurance, by afflictions, by hardships, by difficulties, by beatings, by imprisonments, by riots, by labors, by sleepless nights, by times of hunger, by purity, by knowledge, by patience, by kindness, by the Holy Spirit, by sincere love, by the word of truth, by the power of God; through weapons of righteousness for the right hand and the left, through glory and dishonor, through slander and good report; regarded as deceivers, yet true; as unknown, yet recognized; as dying, yet see—we live; as being disciplined, yet not killed; as grieving, yet always rejoicing; as poor, yet enriching many; as having nothing, yet possessing everything. We have spoken openly to you, Corinthians; our heart has been opened wide. We are not withholding our affection from you, but you are withholding yours from us. I speak as to my children; as a proper response, open your heart to us.
---
Scripture quotations have been taken from the Christian Standard Bible®, Copyright © 2017 by Holman Bible Publishers. Used by permission. Christian Standard Bible® and CSB® are federally registered trademarks of Holman Bible Publishers.
Thanksgiving for God's Deliverance
Give thanks to the Lord, for he is good;
his faithful love endures forever.
Let the redeemed of the Lord proclaim
that he has redeemed them from the power of the foe
and has gathered them from the lands—
from the east and the west,
from the north and the south.

Some wandered in the desolate wilderness,
finding no way to a city where they could live.
They were hungry and thirsty;
their spirits failed within them.
Then they cried out to the Lord in their trouble;
he rescued them from their distress.
He led them by the right path
to go to a city where they could live.
Let them give thanks to the Lord
for his faithful love
and his wondrous works for all humanity.
---
Scripture quotations have been taken from the Christian Standard Bible®, Copyright © 2017 by Holman Bible Publishers. Used by permission. Christian Standard Bible® and CSB® are federally registered trademarks of Holman Bible Publishers.
Again, I observed all the acts of oppression being done under the sun. Look at the tears of those who are oppressed; they have no one to comfort them. Power is with those who oppress them; they have no one to comfort them. So I commended the dead, who have already died, more than the living, who are still alive. But better than either of them is the one who has not yet existed, who has not seen the evil activity that is done under the sun.
The Loneliness of Wealth
I saw that all labor and all skillful work is due to one person's jealousy of another. This too is futile and a pursuit of the wind.
The fool folds his arms
and consumes his own flesh.
Better one handful with rest
than two handfuls with effort and a pursuit of the wind.
Again, I saw futility under the sun: There is a person without a companion, without even a son or brother, and though there is no end to all his struggles, his eyes are still not content with riches. "Who am I struggling for," he asks, "and depriving myself of good things?" This too is futile and a miserable task.
Two are better than one because they have a good reward for their efforts. For if either falls, his companion can lift him up; but pity the one who falls without another to lift him up. Also, if two lie down together, they can keep warm; but how can one person alone keep warm? And if someone overpowers one person, two can resist him. A cord of three strands is not easily broken.
Better is a poor but wise youth than an old but foolish king who no longer pays attention to warnings. For he came from prison to be king, even though he was born poor in his kingdom. I saw all the living, who move about under the sun, follow a second youth who succeeds him. There is no limit to all the people who were before them, yet those who come later will not rejoice in him. This too is futile and a pursuit of the wind.
Caution in God's Presence
Guard your steps when you go to the house of God. Better to approach in obedience than to offer the sacrifice as fools do, for they ignorantly do wrong. Do not be hasty to speak, and do not be impulsive to make a speech before God. God is in heaven and you are on earth, so let your words be few. Just as dreams accompany much labor, so also a fool's voice comes with many words. When you make a vow to God, don't delay fulfilling it, because he does not delight in fools. Fulfill what you vow. Better that you do not vow than that you vow and not fulfill it. Do not let your mouth bring guilt on you, and do not say in the presence of the messenger that it was a mistake. Why should God be angry with your words and destroy the work of your hands? For many dreams bring futility; so do many words. Therefore, fear God.
The Realities of Wealth
If you see oppression of the poor and perversion of justice and righteousness in the province, don't be astonished at the situation, because one official protects another official, and higher officials protect them. The profit from the land is taken by all; the king is served by the field.
The one who loves silver is never satisfied with silver, and whoever loves wealth is never satisfied with income. This too is futile. When good things increase, the ones who consume them multiply; what, then, is the profit to the owner, except to gaze at them with his eyes? The sleep of the worker is sweet, whether he eats little or much, but the abundance of the rich permits him no sleep.
There is a sickening tragedy I have seen under the sun: wealth kept by its owner to his harm. That wealth was lost in a bad venture, so when he fathered a son, he was empty-handed. As he came from his mother's womb, so he will go again, naked as he came; he will take nothing for his efforts that he can carry in his hands. This too is a sickening tragedy: exactly as he comes, so he will go. What does the one gain who struggles for the wind? What is more, he eats in darkness all his days, with much frustration, sickness, and anger.
Here is what I have seen to be good: It is appropriate to eat, drink, and experience good in all the labor one does under the sun during the few days of his life God has given him, because that is his reward. Furthermore, everyone to whom God has given riches and wealth, he has also allowed him to enjoy them, take his reward, and rejoice in his labor. This is a gift of God, for he does not often consider the days of his life because God keeps him occupied with the joy of his heart.
Here is a tragedy I have observed under the sun, and it weighs heavily on humanity: God gives a person riches, wealth, and honor so that he lacks nothing of all he desires for himself, but God does not allow him to enjoy them. Instead, a stranger will enjoy them. This is futile and a sickening tragedy. A man may father a hundred children and live many years. No matter how long he lives, if he is not satisfied by good things and does not even have a proper burial, I say that a stillborn child is better off than he. For he comes in futility and he goes in darkness, and his name is shrouded in darkness. Though a stillborn child does not see the sun and is not conscious, it has more rest than he. And if a person lives a thousand years twice, but does not experience happiness, do not both go to the same place?
All of a person's labor is for his stomach,
yet the appetite is never satisfied.
What advantage then does the wise person have over the fool? What advantage is there for the poor person who knows how to conduct himself before others? Better what the eyes see than wandering desire. This too is futile and a pursuit of the wind.
Whatever exists was given its name long ago, and it is known what mankind is. But he is not able to contend with the one stronger than he. For when there are many words, they increase futility. What is the advantage for mankind? For who knows what is good for anyone in life, in the few days of his futile life that he spends like a shadow? Who can tell anyone what will happen after him under the sun?
---
Scripture quotations have been taken from the Christian Standard Bible®, Copyright © 2017 by Holman Bible Publishers. Used by permission. Christian Standard Bible® and CSB® are federally registered trademarks of Holman Bible Publishers.